OFiyaa tri screen P2 Pro: Add display to macbook
May 14, 2022 by OFIYAA | Portable Tri - Screen Laptop Workstation
As mobile office gradually becomes a trend, laptops have become an important tool.
But sometimes it is inconvenient for a laptop to have only one screen for workers who need to use multiple screens. They need to constantly switch screens, which reduces productivity.
We would recommend ofiyaa tri screen p2 pro for multi-screen workers.
It can quickly add two additional screens to your laptop with just one cable to connect. The most important thing is that it is compatible with macbooks with m1 chips, which is absolutely perfect for the majority of macbook users.
Can be used for stock research on three screens without switching;

It can be used for split-screen comparison of data outdoors (such as coffee shop) without switching back and forth;

Can be used for conference screen replication sharing, ideas and content sharing;

More interesting ideas to look forward to...
Easy to fold, easy to store, suitable for indoor and outdoor;

Parameters are adjustable, Brightness, contrast and other parameters can be adjusted as needed;

Only need one cable to connect (Type-C or double USB A to single USB C), say goodbye to the messy desktop;

202° rotation, widely used for split-screen expansion, replication;
Rotatable Design

Easily start working with multi-angle design, you can get good viewing angle with 202° rotation

Independent Setting

Press the main keys to to adjust the parameter settings of the screen, such as brightness, saturation, hue, etc..

Compact and Portable

The screen is compact and foldable, it is easy to pack in a handbag or suitcase. It is travel friendly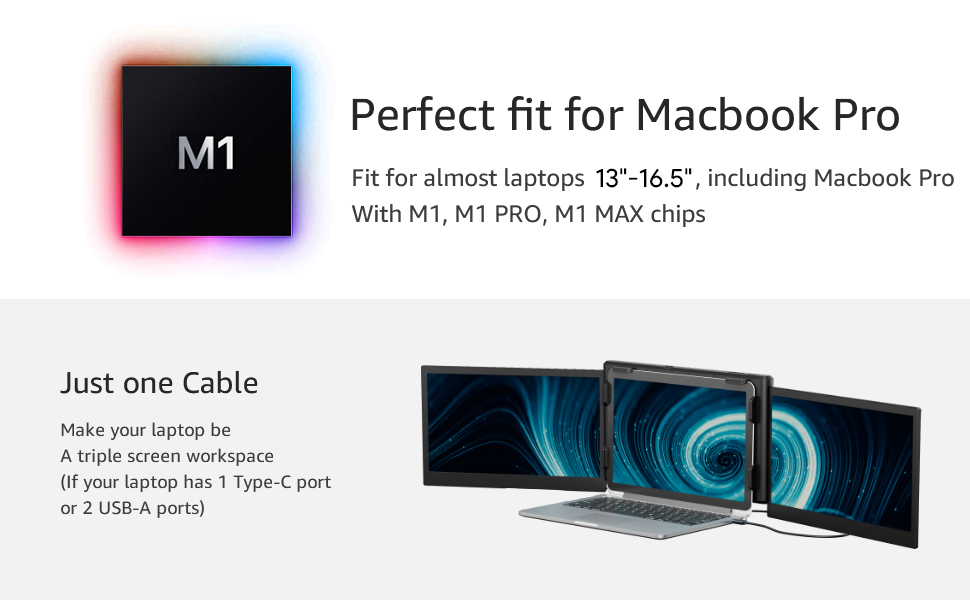 COMPATIBILITY OF PORTS:
TYPE-C: You need a laptop with Type-C interface with you.
OR
2USB-A to 1USB-C: You need a laptop with two USB-A ports with you.
◇ 1 data transmission USB 2.0 or higher than data transmission interface, 1 USB 2.0 or higher than USB 2.0 interface.
◇ If the power supply capacity is insufficient under USB 3.0, the PD interface of "P2 PRO" needs to be powered separately.
Notice:
Due to the some laptops' insufficient voltage,when connected to portable laptop monitor, one screen will work normally and another one not.
Check more details about P2 Pro:OFIYAA P2 Pro