How to triple screen a laptop?
Jun 24, 2021 by OFIYAA | Portable Tri - Screen Laptop Workstation
There is nothing that beats the convenience of having three monitors. Not only can you leverage your triple screen for an ample gaming experience, but it also helps with multitasking on your laptop. If this is something that you would like to learn how to set up, you've come to the right place. At the end of this guide, you will know exactly how to go about how to triple screen your laptop.
Step 1: Confirm your laptop's support for triple screen monitors
Before you can proceed with the brilliant plans to set up OFIYAA screen monitors on your laptop, you need to make sure that your hardware does have support for triple monitors. If you are running an older laptop, you may have a bit of a challenge in this regard. However, the majority of the newer laptops support the feature.
Your focus when performing the assessment is whether or not the laptop has a USB Type-C port. You need only two of these ports, and you are good to go.
Step 2: Get additional hardware for triple monitors if necessary
If your laptop does not have the required USB Type-C port, it is still possible to set up the triple screens. All that you need is to purchase the additional hardware that gives you the required ports.
These days you can purchase any type of hardware for your port need. For instance, you can find in the market USB to HDMI adapter, graphic card, docking station, and external display adapter.
In the case of the OFIYAA versatile screen monitor, you are more interested in a USB to USB-C adapter.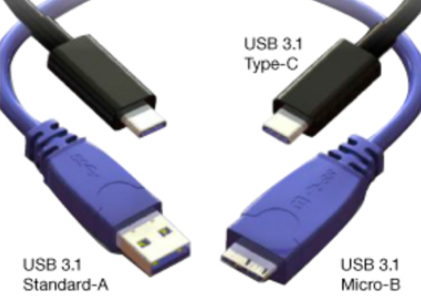 If you happen to have a system that only supports one monitor output, you can still work around this problem by purchasing an external multi-display adapter. This adapter is much cheaper and easier to install since it is just a plug-and-play tool on your USB port. All connections are then made from the external multi-display adapter to OFIYAA monitors.
Step 3: Connect everything properly
Once you have all the hardware needed, the physical connection is much simpler than you can imagine. All you have to do is fit the dual OFIYAA screens on the laptop side to create the much-desired additional screens. Check the attached picture for reference.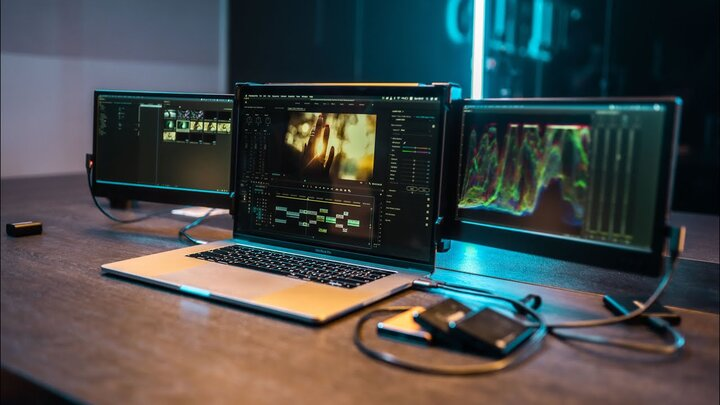 From the connection, you can see that one OFIYAA monitor is physically attached on the left side and the other on the right side of the laptop screen.
Two cables then run from both screens to two separate USB-C ports on the laptop. Please note that these cables are included in the box when buying OFIYAA monitors.
As mentioned above, in case your laptop does not have USB-C ports, you can purchase a USB to USB-C adapter. In that case, the cables will run from the OFIYAA monitor to the adapter connected to the laptop.
Step 4: A couple of display configurations
In most cases, you may not have to make any changes to the display settings.
Kindly check this official Microsoft guide for making unique display configurations for your triple monitor display if you need to make any special adjustments.
And that's it! Enjoy the newly installed triple monitors. Feel free to move things about from one monitor to the next to enhance your working or gaming experience.
Laptops compatibility and video transmission
An important point worth noting is that not all laptop's Type-C port is capable of transferring video. Certain laptops can only transfer data, making it necessary to use a Docking station to extend the HDMI port. These laptops are listed in the below picture. In the same picture, you can see the laptops that only support a single screen, hence docking stations would not work on them. The MacBook and Lenovo models mentioned below are not compatible.