Ofiyaa Tri-Screen Review
Jul 02, 2021 by OFIYAA | Portable Tri - Screen Laptop Workstation
Multi-monitor setups aren't anything new. But multiple monitors on a laptop are not that common. Having more than just one monitor can greatly enhance your productivity. And you can find many external monitors in the market that extend the screen real estate of your laptop monitor. But, in this article, I'm going to talk about the Ofiyaa Tri-Screen.
It is highly mobile, easy to use, and has impressive display quality. Its versatile connectivity lets you use it with the majority of laptops in the market. Also, it has a very robust build and a sleek outlook. The price is also fairly reasonable.
All of this makes the Ofiyaa Tri-Screen the perfect monitor extension. But, there's a lot more to talk about this gadget. In this article, I will go a bit more in-depth on the Ofiyaa Tri-Screen so that you can make an educated decision on whether or not it's the right product for you. So, without further ado, let's get right to it.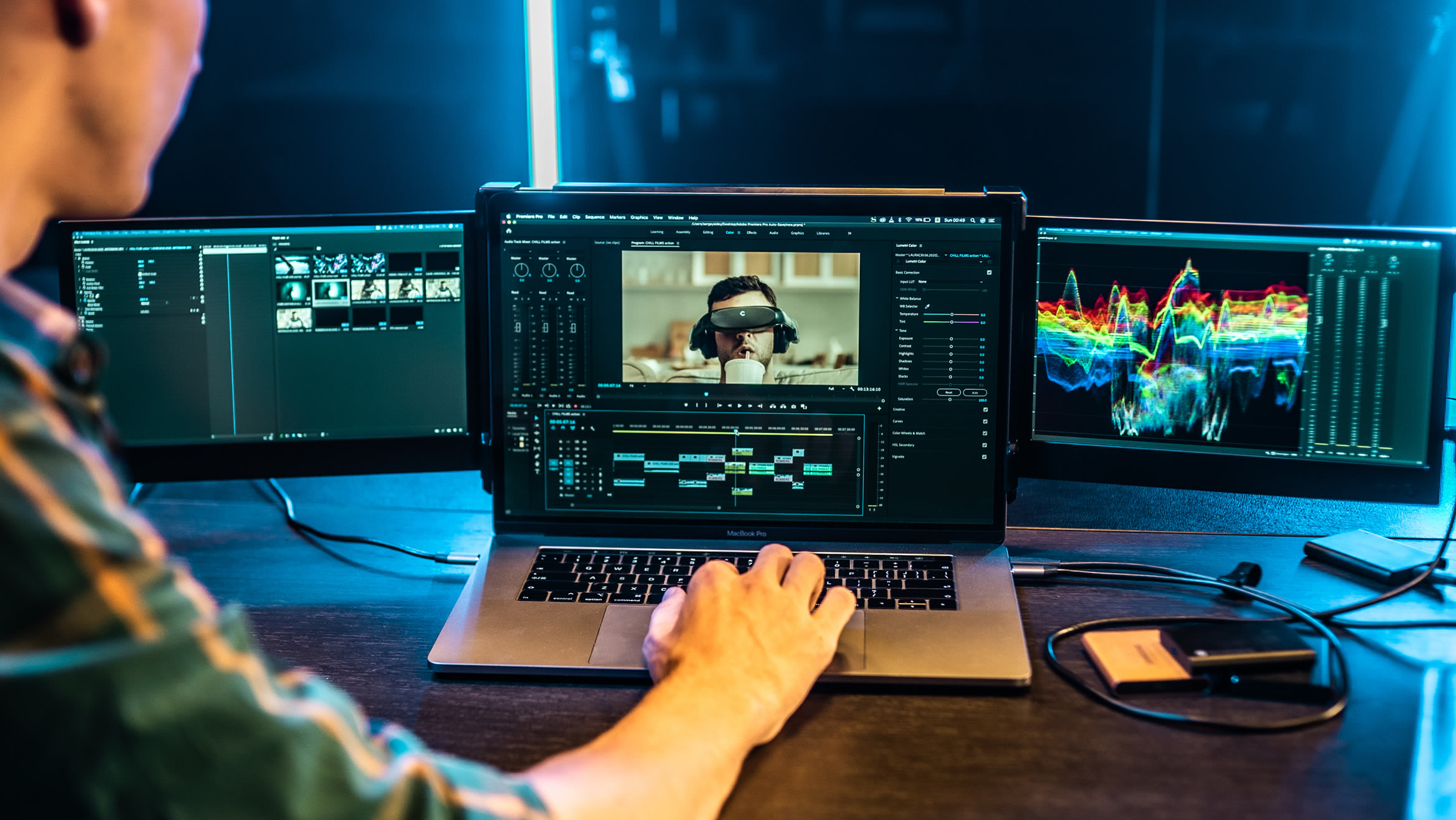 About The Ofiyaa Triple Screen
A multi-monitor setup can be very productive. It can also double the fun of video games. For desktop computers, making a multi-monitor setup can be a walk in the park. But, when you are on a laptop, things can be a bit tricky. Ofiyaa Tri-Screen can solve that tricky situation with ease.
Ofiyaa Tri-Screen can turn your laptop into a triple monitor setup anytime, anywhere. You might think that it is complicated or requires time to set up but that's not the case at all. The manufacturers of Ofiyaa Tri-Screen have kept their focus on simplicity and ease of use. You just need to plug it into the USB and that's it.
Its displays are high quality and adaptable to the majority of the laptops in the market. The compact design, ease of use, and portability make it one of the most desired laptop accessories for workaholics. Each of its displays works independently. This provides a number of benefits that we will discuss in a bit.
Now, I will break down the specifications, unique features, pros, and cons of Ofiyaa Tri-Screen one by one to give a rundown of this exceptional product.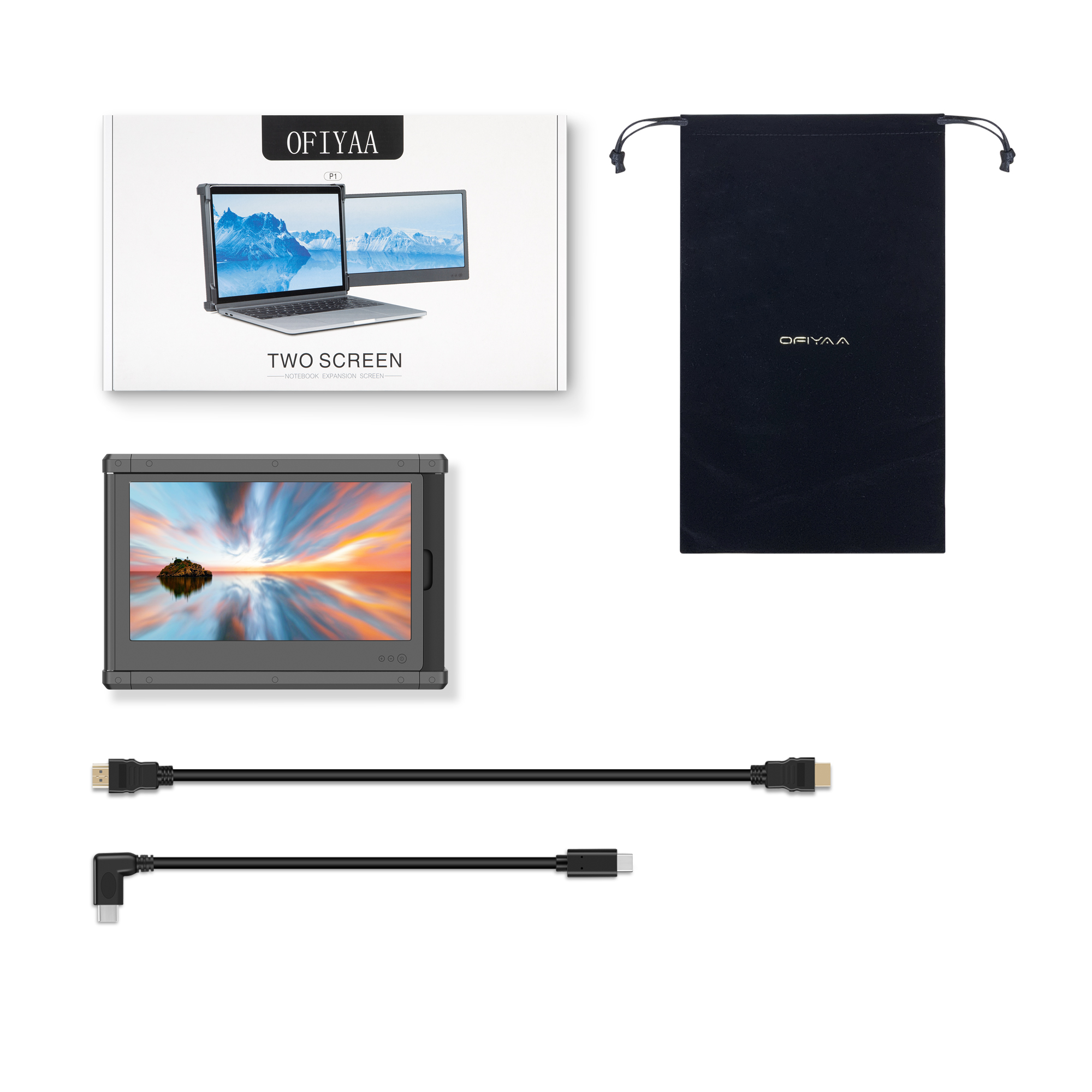 Specifications
Screen Size: 10.8 inches and 11.6 inches
Aspect Ratio: 16:9
Resolution: 1920x1080
Refresh Rate: 60 Hz
Display Panel: IPS
Stand Size: Can adapt to 13-to-16-inch display laptops
Operating System: All
Brightness: 220 CD/㎡
Rotation Angle: 202°
Weight: 2.93 pounds
Dimension: 315x215x39 mm
Connectivity: 1xUSB 2.0, 1xHDMI, 2xTYPE-C
Features
The manufacturers of the Ofiyaa Tri-Screen have provided a number of features for making the screen extensions as user-friendly as possible. Here are some of the features of the Ofiyaa Tri-Screen:
Plug and Play: The Ofiyaa Tri-Screen is a product for the average consumer. The manufacturers had the goal to keep this product relevant to the general public, and they have done it marvelously. You might think that a product of such scale would be difficult to install and use. That is not true with the Ofiyaa Tri-Screen.
You just need to mount the tri-screen to your laptop and connect the USB-C to the USB port of your laptop. This is for the power source of the tri-screen. Connect the laptop's HDMI to the mini-HDMI of the tri-screen using an HDMI cable. That's it! It's so easy to connect that I can bet you will be able to do it on your first attempt.
Simple Design: The design language of the Ofiyaa Tri-Screen speaks for itself. Neither does it give off an old-school vibe, nor any futuristic feel. Yet, the construction of this impressive gadget attracts everyone from the young generation to senior citizens.
The bracket to attach to the laptop screen supports any laptop between 13 to 16 inches. It is designed in such a way so that expanding the bracket for a larger display or contracting for a smaller one doesn't take any effort. You will know how to do it just by looking at it without the help of any user manual.
High-definition Display: Both displays of the Ofiyaa Tri-Screen are full HD. You get to see your content at 1080p resolution with crisp and stunning image quality. Each display is 11.6 inches with the ever-so-popular 16:9 aspect ratio. You can enjoy games and movies of high quality. Also, working will feel a lot better.
The displays also have a 60Hz refresh rate which means you can play games at 60 frames per second. Full HD display with a 60Hz refresh rate is perfect for gaming. But for productivity it brings smoothness and fluidity to your work. The brightness of the displays is also impressive.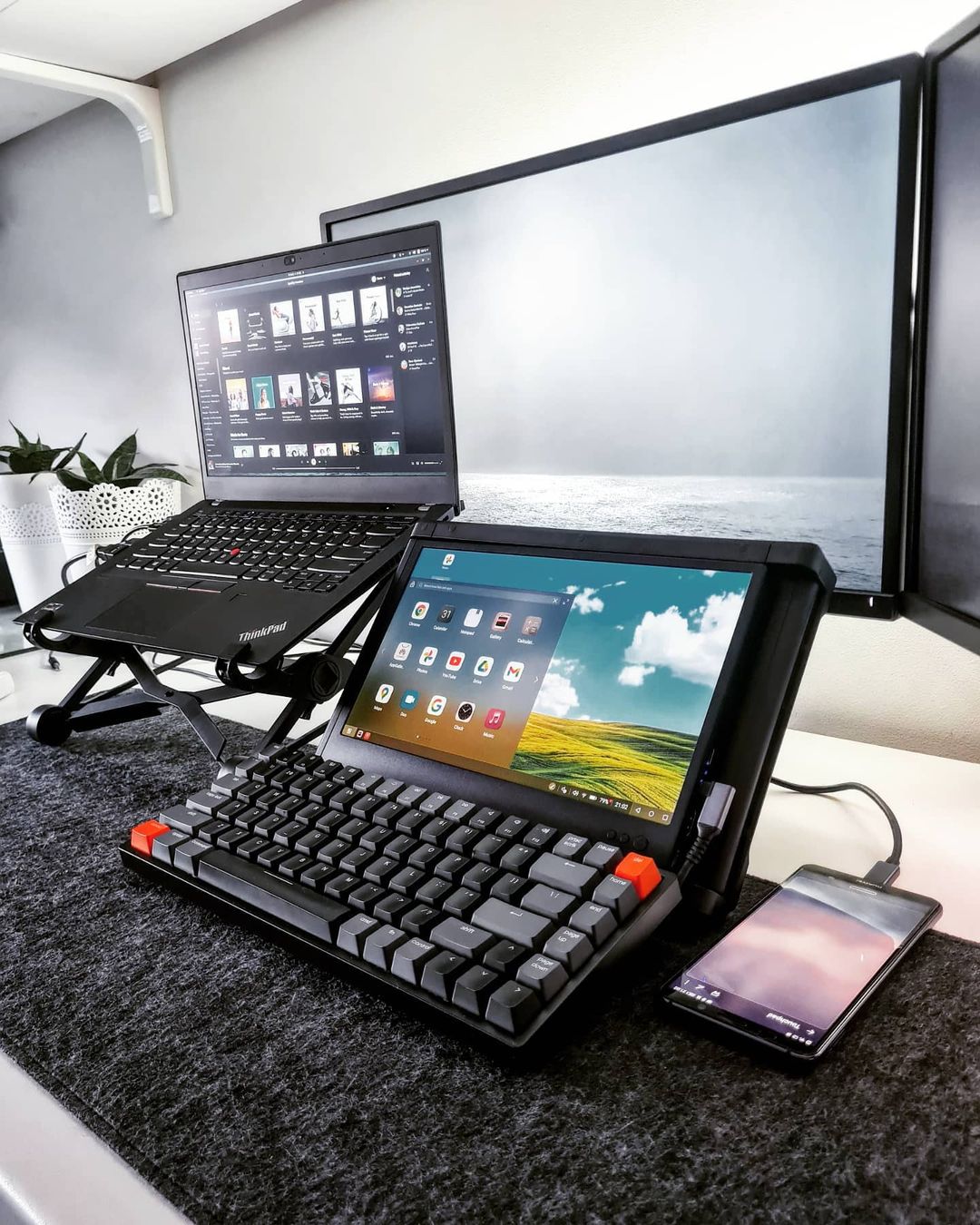 Mobile phone Connectivity: You can convert your smartphone to a mini-computer instantly, thanks to the rich connectivity of the Ofiyaa Tri-Screen. You can connect your mobile phone to the Ofiyaa Tri-Screen with the USB-C port. The display of your phone can be projected on either of the displays of the Ofiyaa Tri-Screen.
You can do anything on your phone, just with a bigger display for better viewing. This feature is currently available on Samsung DEX and Huawei EMUI.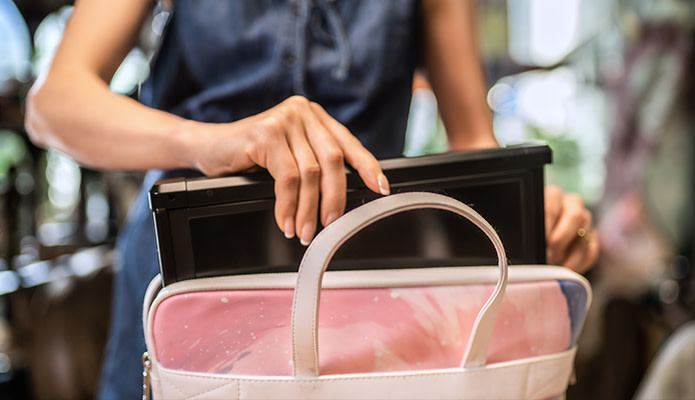 Self-adjust Capability: When you are working, if there are two images you are working on, sometimes you may need a different color, brightness, contrast, etc. for the two images. This is not possible on a single laptop display. It wouldn't be possible either in the Ofiyaa Tri-Screen if it wasn't for the foresight of the manufacturers.
You can adjust the display parameters separately in each of the displays. If one image requires high contrast while the other needs low brightness, you can achieve that without any trouble. Also, if you and your friend are watching a movie together, both of you can watch using your preferred parameter without bothering the other.
Durable and Versatile: The build quality of the Ofiyaa Tri-Screen is superb. You can tell that it's built from premium materials just by looking at it. It doesn't look cheap at all. The manufacturers have used high-grade industrial materials to ensure durability and lightweight.
If you are worried about the fatigue induced due to repeated folding over the course of its usage, don't be. The Ofiyaa Tri-Screen has passed 10000+ times in folding tests. The manufacturers guarantee a usage period of more than 5 years. Its building materials make it wear and scratch-resistant. So even after prolonged use, it looks just as new.
Sleek and Portable: The manufacturers of the Ofiyaa Tri-Screen have kept the design to minimal which gives it a sleek and fashionable look. You can fold it to a smaller size and fit it in your back without even trying. It fits in pretty much any standard-sized backpack.
The design and the material have worked together to keep the weight low. This makes the Ofiyaa Tri-Screen highly portable. You can carry it anywhere at any time without any extra baggage. It easily fits in any normal-sized bag.
Standalone Screen: The Ofiyaa Tri-Screen not only works pairing with a laptop, but it can also work as a standalone display for other video input devices. You can use it to play your DVD player or gaming console. You just need to plug it into a USB port for power. Then use a standard HDMI cable to connect the video input device.
Pros
Rich connectivity
Easy to carry
High-quality display
Each display can be adjusted individually
Energy saving
Wide range of screen parameters
Excellent build quality
High-value product
1-year warranty
Cons
The screen is exposed even when folded.
Speaker quality could be better.
Click Here to visit their website and learn more about the Ofiyaa Tri-Screen.
What Makes Ofiyaa Better Than Other Dual Screen Attachments?
There are plenty of dual screen attachments available in the market and all of them are packed with features. So, you might ask what sets the Ofiyaa Tri-Screen apart from the others? Well, a lot of things. All the dual-screen attachments come with pretty much the same configuration. In terms of specs, the Ofiyaa Tri-Screen is the same as others.
The factor that makes the Ofiyaa Tri-screen different is its convenience. It's very easy to attach and connect to your laptop. Anyone who has two hands functioning can do it without a second guess. Not only that, the Ofiyaa Tri-Screen has a unique feature where you can use the screens as a standalone display for other video input sources.
As far as the design and compatibility are concerned, the Ofiyaa Tri-Screen has transcended its competitors in all aspects. Its design is so minimalistic yet gorgeous. You can fold it, put it in your bag and you won't even feel that there is something extra in your backpack. The manufacturers haven't compromised with durability to keep the weight low.
It is more durable than other dual-screen attachments in the market. Unlike other manufacturers, the Ofiyaa Tri-Screen manufacturers have tested their devices extensively before launching. If you want durability and functionality in the same package, you should look no further than the Ofiyaa Tri-Screen.
What Do Users Have to Say About It?
Customers' feedback is what reflects the quality of a product. In this case, the users' review speaks pretty loudly on behalf of the Ofiyaa Tri-Screen. If you visit their website and go to the customer review section, you can see the reviews of many happy customers from all over the world.
Most of them seem happy about the ease of use, lightweight, and quality of the display. Announcer from the USA says with a 5-star review, "The screen quality is better than my laptop screen."
Jonas from Vietnam has given a 5 star and expressed his gratitude by saying, "I've been impressed with this, it doesn't add too much weight or bulk to the laptop either - the whole thing hardly feels much different to carry when it's in the laptop bag."
There are many reviews on their website. You can go and check them out for yourself.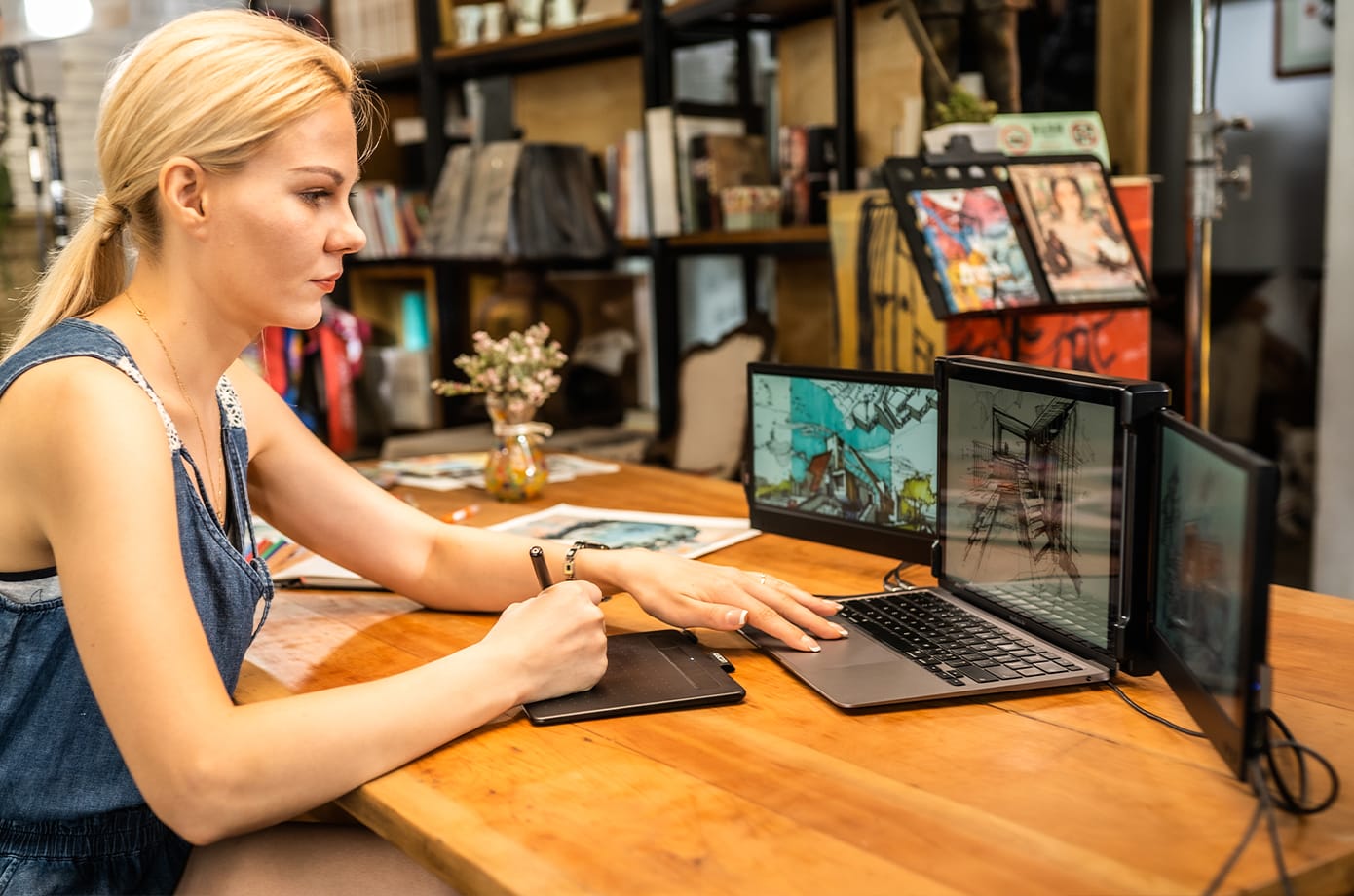 Do You Need a Triple Screen Setup?
Reading all these you still might wonder if you need a triple screen setup. There are certain scenarios where you need a multi-monitor setup.
Here are some of the benefits of having a multi-screen monitor:
Need for Increased Productivity
If you work all day on your laptop, a multi-monitor setup can boost your productivity through the roof. Switching between windows, images or applications can feel sluggish and also time-consuming on a single screen. With a triple screen setup, you can place all three of your work windows on three screens and work seamlessly.
Multi-monitors are great for multitasking. If you are working on three different projects which require different software all at the same time, a triple screen setup can be just the thing you need. Open all the required applications on three different screens, start working and you will feel the difference.
A multi-monitor setup is a must for video game streamers. Because playing the game and interacting with the community take place at the same time. The game runs on one screen while the interaction in the other. For most streamers, two monitors do the job fine. If you stream on multiple platforms, you should get a triple-screen setup.
For professional graphics designers, a multi-screen setup is absolutely necessary. They need to keep several applications and images all at the same time. Even larger displays aren't much help to them. If you are one of them, investing in a triple-screen setup will be totally worth it.
Final Thoughts
People use laptops mostly for productivity and that is where a multi-screen setup becomes important. So, a product like the Ofiyaa Tri-Screen monitor for laptops was extremely necessary. The Ofiyaa Tri-Screen has not only fulfilled that demand but did it with style and satisfaction.
It's simple design, lightweight yet sturdy build, FHD resolution and great refresh rate makes it the perfect choice for enhancing your productivity. So, if you feel like you need a multi-screen setup for your laptop, don't look elsewhere and straight go for it. I have personally used it and think it is definitely worth it for its price.